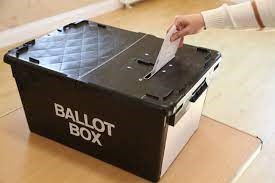 Polling stations review - have your say
Added at 10:34 on 18 October 2023
A review of all polling districts and polling places in the Hinckley & Bosworth area is being carried out by the Borough Council.
The council wants to hear people's views and suggestions about the current arrangements, which can be viewed on the website (www.hinckley-bosworth.gov.uk/pollingreview2023) or by going to the council's main reception at the Hinckley Hub.
Mollie Brooks-Crowley, Electoral Services Manager at the Borough Council said: "We want to know your views on the suitability and accessibility of the current polling stations.
"We are particularly interested in comments about the accessibility of polling places and therefore encourage voters with any type of disability to submit their comments.
"For example, did you find getting into the building difficult or was parking a problem for you on polling day? At the same time if you know of a more suitable alternative venue for a polling station then please tell us."
To view and comment on the current arrangements and recommendations, visit the council's consultation page online at www.hinckley-bosworth.gov.uk/pollingreview2023 by 6 November 2023.
Alternatively, a paper copy is available to view at the Hinckley Hub, and the council is happy to receive comments in writing. Please contact Electoral Services on 01455 255835 for more information about this.
Once the council has reviewed all comments, the (Acting) Returning Officer will publish final recommendations, which will be submitted to Council for approval. Any changes will be made in time for the scheduled Police and Crime Commissioner Election in May 2024.