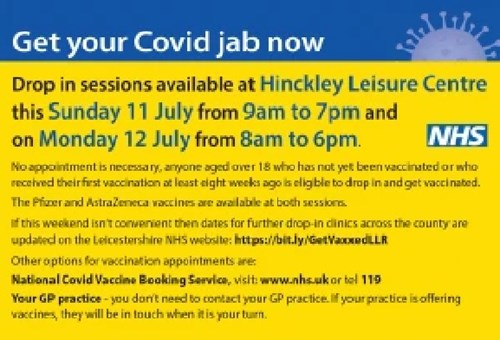 Drop-in sessions for Covid jabs at Hinckley Leisure Centre on Sunday and Monday
Added at 15:26 on 07 July 2021
Covid vaccinations are being offered, with no appointment necessary, at Hinckley Leisure Centre this coming Sunday and Monday, 11 and 12 July.
Anyone aged over 18 who has not yet been vaccinated or who has received their first vaccination at least eight weeks ago is eligible to drop in and get either their first or second jab.
The drop in sessions are open on Sunday 11 July from 9am to 7pm and on Monday 12 July from 8am to 6pm.
Both the Pfizer and AstraZeneca vaccines will be available at both sessions.
Residents are urged to get their jab in the next two weeks, as the NHS scales up the number of vaccine opportunities ahead of the 19 July date proposed for Covid restrictions to be lifted.
If this Sunday and Monday dates are not convenient, dates for further drop-in clinics across the county are updated on the Leicestershire NHS website: https://bit.ly/GetVaxxedLLR