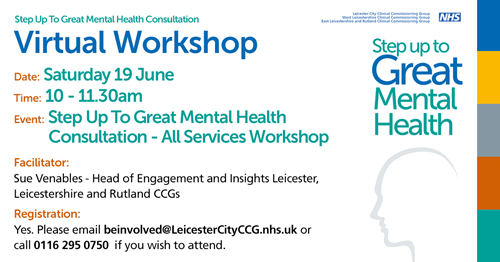 Step up to Great Mental Health – online public workshop this weekend
Added at 11:27 on 16 June 2021
The three NHS clinical commissioning groups covering Leicester, Leicestershire and Rutland launched a public consultation this week into proposals to invest in and improve adult mental health services for people when their need is urgent or they need planned care and treatment.
Mental and emotional health problems represent the largest single cause of disability in the UK. One in four adults experiences at least one mental health problem in any given year.
We would like to give as many people in Leicester, Leicestershire and Rutland, whether they use the services or not, the opportunity to share their views, on what is a very important topic right now. In addition to asking people to complete a questionnaire, we are hosting a number of online events to start a conversation with people.
All the event details are on our website, however we would love you to join us for our next virtual interactive workshop*:
Date: Saturday 19th June
Time: 10 – 11.30am
Type: Workshop
Hosted by: Sue Venables, Head of Engagement and Insights, Leicester, Leicestershire and Rutland Clinical Commissioning Groups
*Registration is required, please email beinvolved@LeicesterCityCCG.nhs.uk to register and we will send you a link.
Visit the website to view all the events and other activities https://www.greatmentalhealthllr.nhs.uk and to view the full consultation document and have your say via the consultation questionnaire.
If you do need further resource to assist you with sharing the information on the consultation, please contact us on 0116 295 0750 or email beinvolved@LeicesterCityCCG.nhs.uk