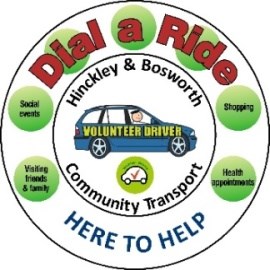 Volunteer Drivers Required
Added at 18:40 on 19 September 2022
Hinckley & Bosworth Community Transport (Dial a Ride) has been running for over 30 years. Our volunteer drivers use their own cars to take elderly/disabled people to health/hospital appointments, social events/lunch clubs, visiting relatives/friends, shopping etc.
During Covid we delivered medication and shopping for those vulnerable members of our community and now we have reached a point where we need friendly drivers to join us! You will meet some amazing people, whilst making a positive impact to their lives by helping them get to the activities and appointments that are important to them to help alleviate social isolation, supporting their physical/mental wellbeing.
Volunteers will need to use their own vehicles, be over 25 years and agree to a DBS Check.
We pay for the mileage so it only costs your time.
Our volunteers say how "rewarding the role" is as they are meeting people and helping their community improving their own feeling of wellbeing.
Our passengers say "Dial a Ride has been an absolute lifeline with such wonderful volunteers"
If you are interested in helping your community, please give Lindsey Short a ring on 01455 250462 or email dialaride21@hotmail.com.