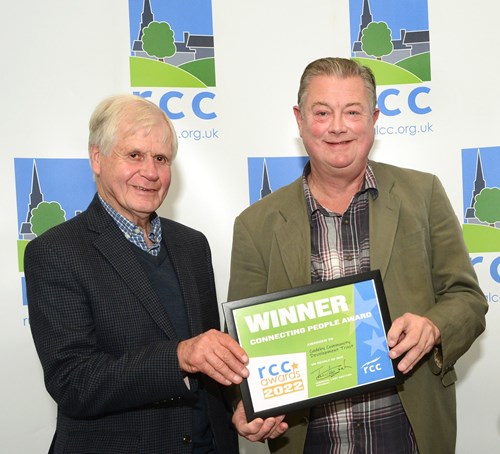 Cadeby community group wins RCC award
Added at 21:02 on 19 November 2022
Cadeby Community Development Trust – now known as Cadeby Community Trust – was named joint winner in the small village category of the Connecting People Award in Leicestershire & Rutland RCC's annual awards for 2022.
The awards recognise and celebrate individuals, groups of people, or organisations that make a positive contribution to a community in Leicestershire or Rutland.
The Trust was formed in 2016 to enhance the village environment and facilities for all residents, and has since delivered a raft of projects and events both independently and in partnership with Cadeby Parish Council and Cadeby District Church Council (DCC).
It began by taking on the lease of and refurbishing the Church Hall as a community venue, with its neighbour membership scheme allowing village households the use of the facilities for a small fee each year.
Working alongside the Parish and County Councils, it secured grant funding to restore and improve the woodland walk along the edge of the village, and has co-ordinated several community bulb planting days.
Its most recent project was the production and installation of a village marker stone and village noticeboard to commemorate the Platinum Jubilee of Queen Elizabeth II.
The Trust also spearheaded the restoration of the church clock and, in conjunction with volunteers from the Church and wider community, helps to provide the annual village Christmas party and Santa visit.
When the Church launched a £35,000 fundraising appeal earlier this year for the urgent repair and restoration of the churchyard boundary wall, Cadeby Community Trust was among the first to respond, with a donation of £1,000, and the contribution of two top raffle prizes at this year's fundraising church fete. Half of any profits from the sale of this year's Cadeby Christmas cards will also be donated to the wall appeal.
A spokesman for RCC said that the Trust perfectly fitted its criteria for the Connecting People award as "we believe that by simply being in a rural location, no person, organisation or business should be disadvantaged and that facilities, services and other opportunities should be made equally accessible, wherever and however possible".
The award was received on behalf of the Trust by its treasurer, John Shepherd, at a ceremony held in Wigston.
If you would like to join the Church Hall membership scheme or buy Cadeby Christmas cards or calendars please contact CCT Chairman, Ian Smith at ian.smith1953@hotmail.com